Alumni Angle: Former Drum Major Crowned Ms. Veteran America
As JSU marches into a week that will see us honor our nation's veterans and reunite our Marching Southerners alumni, the story of a former drum major becoming Ms. Veteran America couldn't come at a more fitting time.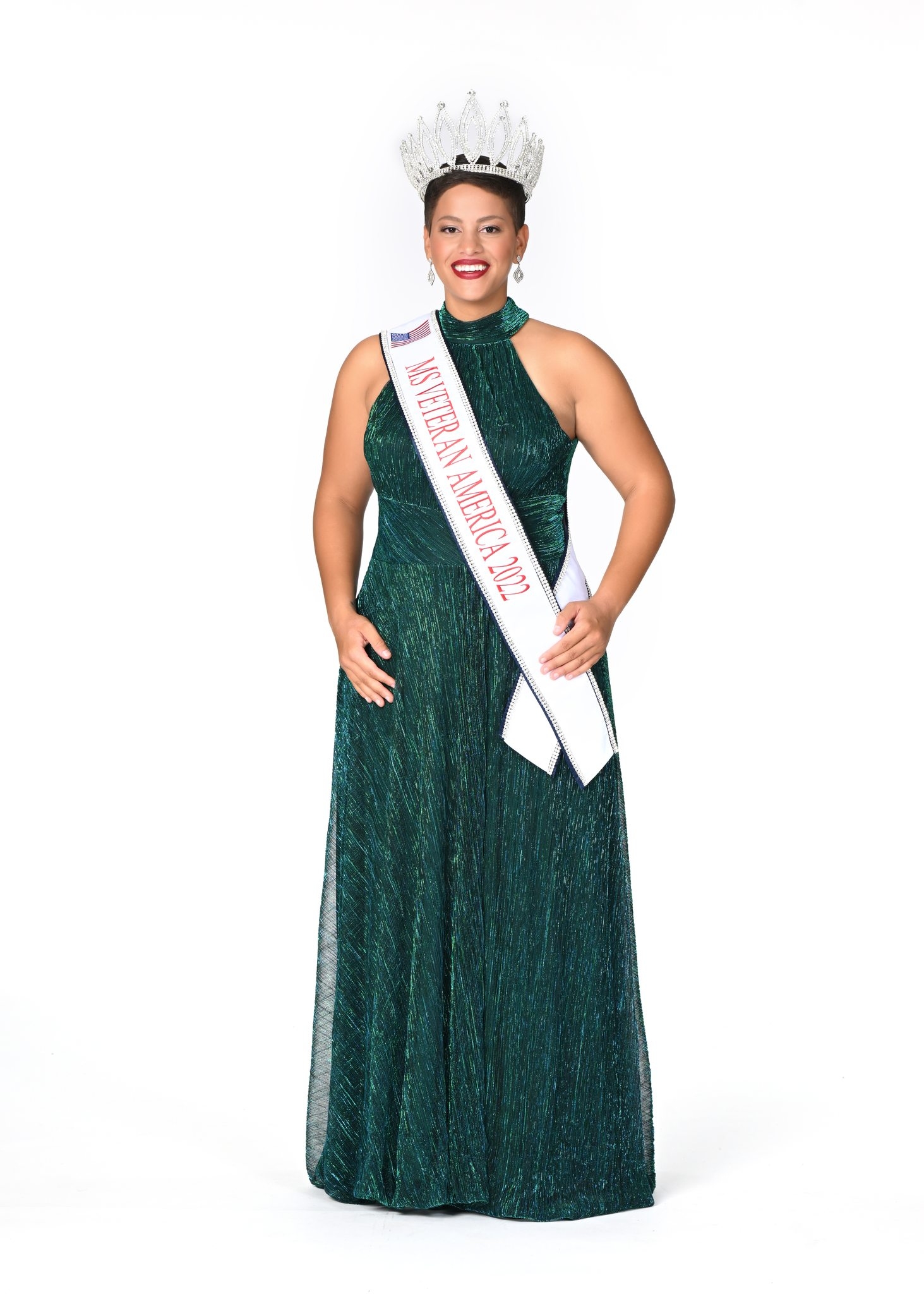 Liliana Joie Byrd – who served as drum major of the Marching Southerners in 2014 and 2015 after marching on the flute line – was crowned Ms. Veteran America on Oct. 30 during a national competition in Orlando.
After earning a BA in music with a concentration in music education from JSU in 2016, Byrd joined the US Army as a fife instrumentalist in the Old Guard Fife and Drum Corps. She achieved the rank of staff sergeant while performing in 230 missions and ceremonies throughout her four years on active duty.
Upon completion of her enlistment in 2020, she moved to the island of St. Thomas in the US Virgin Islands, where she continues to play flute and steel pan in the US Virgin Islands National Guard while serving as band director of a local school.
"The first impression I had of Joie when she was a freshman was that she was a natural leader," said Dr. Ken Bodiford, JSU director of bands. "She was an outstanding flutist at JSU, and having her serve as drum major of The Marching Southerners was a pleasure. We are so proud of her accomplishments and her service to our country."
To honor our nation's veterans, the JSU Office of Military and Post-Traditional Student Services has organized a week of activities leading up to Veterans Day on Friday, Nov. 11. The entire campus is invited to participate in the events listed below.
Meanwhile, the Marching Southerners will welcome alumni back to campus at the annual Southerners Reunion this weekend. The band will be presented the prestigious Sudler Trophy from the John Phillip Sousa Foundation during halftime of the Gamecock football game on Saturday, Nov. 12, which kicks off at 1 p.m. The crowd will enjoy a post-game performance by the band.
VETERANS WEEK SCHEDULE
Monday, Nov. 7: Show support for the US Air Force by wearing Air Force gear and colors
Tuesday, Nov. 8: Show support for the US Navy by wearing Navy gear and colors
Wednesday, Nov. 9: Show support for the US Army by wearing Army gear and colors. Participate in Veterans Week Dodgeball at the Rec Center, 2-4 p.m.
Thursday, Nov. 10: Show support for the US Marine Corps by wearing Marines gear and colors
Friday, Nov. 11: Veterans Day Ceremony, 10 a.m., Theron Montgomery Building Auditorium. The local and campus communities will gather to honor local veterans and their service to our country. The celebration will include guest speakers, videos of local veterans, patriotic music and light refreshments. Speakers will include JSU alumnus Col. Jason Benefield and graduate student Elaine Bowman, a retired senior enlisted Air Force veteran.
Saturday, Nov. 12: Military Appreciation Football Game – Military and first responders will be recognized during the game, which kicks off against Eastern Kentucky in the final home game of the season at 1 p.m. in JSU Stadium. Free admission with military ID.